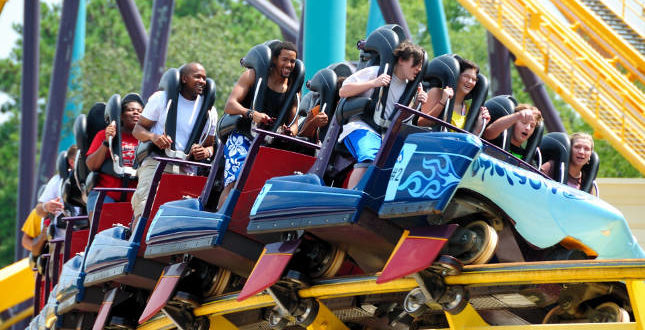 U.S. Veteran Denied Access to Amusement Park Ride Due to Prosthetics
Earlier this month, a retired U.S. Marine bomb technician Johnny "Joey" Jones, who walks on two prosthetic legs, was kicked off a ride at Six Flags due to not having "real legs." Jones served as a bomb technician in Iraq and Afghanistan, where he lost both of his legs from an improvised explosive device.
In response, Jones tweeted to all veterans who now use prosthetics.
"SeaWorld, Universal Studios, and Disney will literally move mountains for you. Six Flags will tell you 'nah bro, you gotta have two real legs.'"
Six Flags responded to Jones, claiming that this rule is a part of their safety policy. "Guests with certain disabilities are restricted from riding certain rides and attractions," they responded.
Other parks allow amputees to enjoy similar rides without it posing any safety risk.
Jones Calls for Action
The ride in question had a safety bar secured across patrons' laps. Jones's legs were not dangling from the ride. Despite this, his prosthetics were still deemed a safety risk.
Jones realized that he wasn't even able to ride the tilt-a-whirl after researching the park's policy. In an interview with "Fox and Friends," Jones said he is restricted to "pretty much things that don't move."
Since then, Jones has simply been asking for Six Flags to review its policy.
"So my message to Six Flags is, I don't hate you, I don't want to tell people not to go there. I want you to apply the same type of care and thoughtfulness that Universal Studios, Disney, SeaWorld, and everywhere else I've gone and ridden roller coasters, and done so safely, I want you to apply the same knowledge and expertise that they apply."