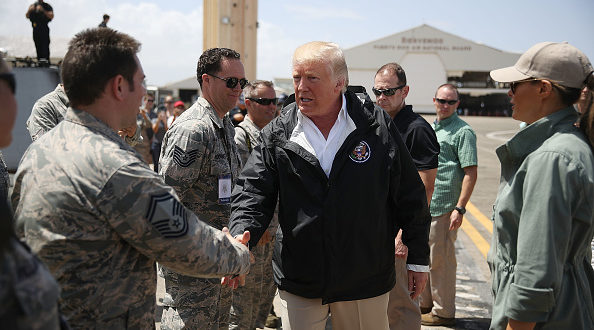 Trump Visits Puerto Rico, Explains Recovery Challenges
Faced with the logistic problems of restoring electricity and water to an isolated island, the Trump administration has been working non-stop to help Puerto Ricans get back on their feet. On Tuesday morning, President Trump and First Lady Melania Trump landed on the destroyed island.
Trump met with local leaders, including San Juan Mayor Carmen Yulin Cruz. Yulin Cruz has made a name for herself by claiming the President is failing Puerto Rico. However, others claim that she has failed to attend FEMA meetings, and has more interest in television appearances than she does in the relief effort. Trump extended an olive branch to one of his fiercest detractors.
The President helped distribute goods at a relief center, though the huge crowd made clear that recovery will take time. Part of the delays result from the lack of local truck drivers who can distribute generators, food, and water to rural part of the island. President Trump mentioned that supplies from the federal government still needed drivers to transport them to hurricane victims. As he said, "We need their truck drivers to start driving trucks. On a local level, they have to give us more help."
During his trip, President Trump was briefed by officials at the Luis Muniz Air National Guard base. He met with storm victims to hear their experiences and their needs. Following that, he met with the governors of the United States Virgin Islands and Puerto Rico on a Navy ship.
In a part of the United States plagued by an ineffective local government and weak infrastructure, recovery will not be easy. The area's mountainous geography only makes relief efforts more difficult.
To make the situation worse, a naval base on the island is no longer open to help coordinate relief efforts. The Naval Station Roosevelt Roads used to exist at Ceiba, Puerto Rico. After protests by locals, it was eventually shuttered in 2004. Now, a part of the former military base is used as a ship recycling facility. While this might make the island more environmentally sustainable, it has resulted in one less military base for relief efforts.
Currently, the military, first responders and FEMA are all working to improve conditions on the island. [3] Puerto Rico is without electricity, water and transportation on many parts of the island. Food shortages are common as Puerto Ricans work to recover from the storm. Despite the difficulties faced by the administration, relief efforts are still soldiering on. President Trump maintains that the government has done an excellent job responding to this brutal hurricane season.