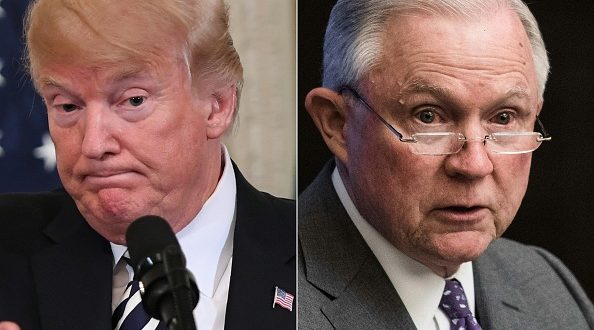 Trump Knocks Sessions, Says "I don't have an Attorney General"
President Trump has lost all confidence in Attorney General Jeff Sessions, according to a new interview with The Hill. Trump says Sessions has failed to support his administration on several levels.
Multiple Controversies
Trump has sharply criticized Sessions' decision to recuse himself to the investigation into alleged collusion with Russia. However, Trump says his discomfort with the Attorney General comes from more than just one instance. A lack of border security may be irking the President, who campaigned on a promise to build a border wall. Trump said, "I'm not happy at the border, I'm not happy with numerous things, not just [the Russia recusal]."
Sessions' recusal paved the way for Deputy Attorney General Rod Rosenstein to appoint Special Counsel Robert Mueller as head of the Russia investigation.
Sessions also declined to indict Hillary Clinton, even after finding out that Former F.B.I. Director James Comey allowed serious errors to occur on his watch.
During the campaign, Trump touted his ability to hire only "the best people." Now, he says his choice for Attorney General has let him down. Trump notes that then-Senator Sessions endorsed him earlier than any other sitting senator. The President said, "[Sessions] went through the nominating process and he did very poorly. I mean, he was mixed up and confused, and people that worked with him for, you know, a long time in the Senate were not nice to him, but he was giving very confusing answers. Answers that should have been easily answered. And that was a rough time for him."
Sessions, Out?
Sen. Lindsey Graham has said that Trump should fire Sessions after the midterms. The President stayed mum about if, and when, he might choose to dismiss the Attorney General. Trump said, "We'll see what happens. A lot of people have asked me to do that [fire him]. And I guess I study history, and I say I just want to leave things alone, but it was very unfair what he did."