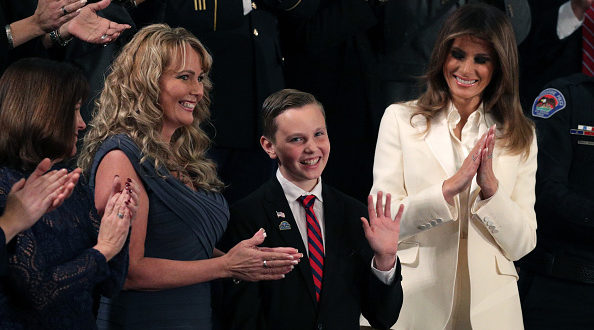 Trump Honors 12-year-old Preston Sharp During SOTU
President Trump delivered his first State of the Union address on Tuesday, January 30, 2018.
Like presidents before him, Trump invited a number of special guests to attend the annual address. The diverse list included emergency responders, service members and service member supporters, individuals with economic success stories from Ohio, and parents who lost teenage children to gang violence.
The president also honored a very special 12-year-old boy, Preston Sharp.
Flag and Flower Challenge
Sharp received a standing ovation while seated next to the First Lady after being recognized by the President. He organized the Flag and Flower Challenge, which places flags and a red carnation on fallen veterans' graves across the country.
His efforts began on Veteran's Day 2015 after visiting his grandfather's grave. Sharp was upset when he saw that graves of other soldiers in the cemetery weren't being honored with flags and flowers like his grandfather's.
His campaign has placed over 40,000 flags and carnations on soldiers' graves across the country.
During the state of the Union, President Trump stated:
"Young patriots like Preston teach all of us about our civic duty as Americans. Preston's reverence for those who have served our nation reminds us why we salute our flag, why we put our hands on our hearts for the pledge of allegiance, and why we proudly stand for the national anthem."
Sharp's message is simple. We need to honor veterans every day, not just on a holiday.
Any day is a good day to honor a fallen veteran's grave with a flag or take a veteran to lunch. You can also thank a vet for their service when you see them in public.