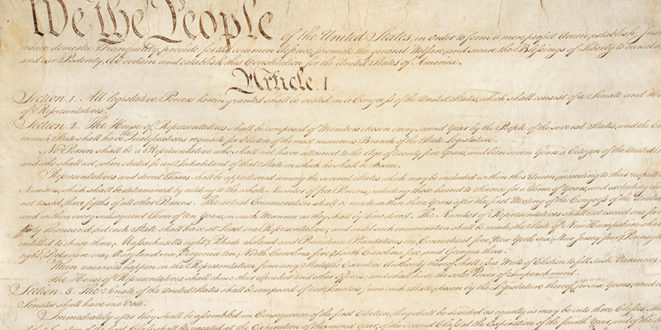 The U.S. Constitution – Facts You Haven't Heard!
The U.S. Constitution is our nation's founding document and its highest law. Every kid in school learns the basics of when "We the People" decided to establish a republic. But what about the stuff you don't learn in school? The Constitution has a rich history that most people never learn.
The Document
Preparing the final Constitution was a high-security event. The framers met in a locked room while sentries stood guard at the door. Even during the debates, reporters and onlookers were barred from attending. Most surviving records come from James Madison's notes, which Dolly Madison sold to the government after his death.
Though the Constitution was ratified on September 17th, 1787, the government it created did not exist until 1790. On February 2, 1790, the Supreme Court met formally for the first time. The Supreme Court initially met inside the Royal Exchange building in New York City. City officials had to move butcher carts out of the way before the justices could meet! The court later moved to Philadelphia and then, to the U.S. Capitol building. The judicial branch of government did not move to its current home until 1935.
Our Constitution broke several records! It is the oldest written constitution that is still in force today. At the time it was written, it was also the shortest. Years later, Monaco broke that record and claimed the title of "world's shortest constitution" with 3,814 words. Ours clocks in at 7,591 words, including all the amendments.
The Writers and Signers
Signers of the document ranged in age from 26 to 81. Benjamin Franklin, the eldest signer, needed assistance to put his pen to paper. Franklin initially opposed American independence and even wrote of his opposition to the Boston Tea Party. However, the great thinker changed his mind and is the only Founder who signed all 4 of our nation's independence documents: the Declaration of Independence, the Treaty of Alliance with France, the Constitution, and the Treaty of Paris.
Members of Congress have introduced more than 11,300 potential amendments throughout our nation's history. Only 27 amendments were ratified. Immediately following the September 11th attacks, multiple senators introduced an amendment that would keep the government running in the event of a "mass vacancy" at the Capitol.
Thomas Jefferson and John Adams did not sign the founding document. Jefferson was serving as ambassador to France and Adams, as ambassador to Great Britain. Patrick Henry was invited to the Constitutional Convention, but chose not to attend.