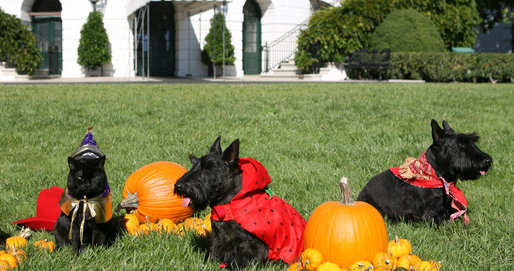 The Presidents' Most Famous Pets
Many First Families have enjoyed the love and companionship that animals bring. Though most modern presidents have had dogs or cats, earlier presidents sometimes lived with unusual creatures. Martha Washington and Dolley Madison, for example, each had a parrot! Theodore Roosevelt owned 5 bears, not to mention the hyena, lion, and zebra that also lived on the White House grounds. Do you remember these Presidential Pets?
Checkers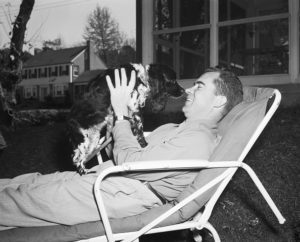 Perhaps the most famous dog in politics, Checkers was gifted to President Nixon during his campaign as Vice President. Nixon's infamous "Checkers Speech" is nicknamed after the cocker spaniel. After critics accused Nixon of misusing campaign donations, he addressed the nation on television. Nixon made an emotional appeal and said he planned to keep one donation: Checkers, the dog his daughters loved.
"One other thing I probably should tell you…We did get something, a gift, after the election. A man down in Texas heard Pat on the radio mention the fact that our two youngsters would like to have a dog. And believe it or not, the day before we left on this campaign trip we got a message from Union Station in Baltimore, saying they had a package for us…You know what it was? It was a little cocker spaniel dog, in a crate that he had sent all the way from Texas, black and white, spotted, and our little girl Tricia, the six year old, named it Checkers. And you know, the kids, like all kids, love the dog, and I just want to say this, right now, that regardless of what they say about it, we're gonna keep it." – Richard Nixon, the Checkers speech
India, Barney, and Miss Beazley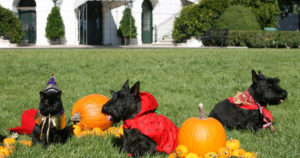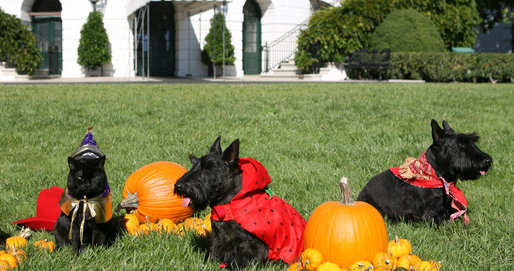 George W. Bush is a well-known animal lover, and his time in the White House was shared with several furry friends. From left to right, here are India, Barney, and Miss Beazley. The two Scottish terriers became fixtures at White House events. Here, Barney tries running the White House Press Briefing:
Rebecca the Raccoon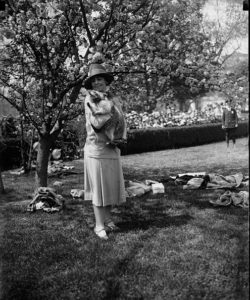 Not to be outdone by his predecessor in the White House, Calvin Coolidge owned a menagerie of pets. The whole family loved dogs, and Grace Coolidge doted on her beloved raccoon, Rebecca.
A Flock of Sheep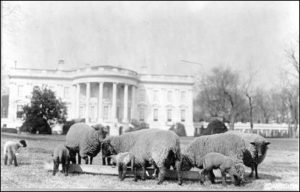 When the U.S. officially entered World War I, Woodrow Wilson wanted to set an example of pitching in to support the war effort. To that end, he brought in a flock of sheep. This unusual strategy saved money on labor and gas used to maintain the lawn; the sheep would graze the grounds themselves! The flock is pictured here, busy at work grazing the South Lawn. Wilson also sold the wool to raise money for the American Red Cross.
One Lucky Dog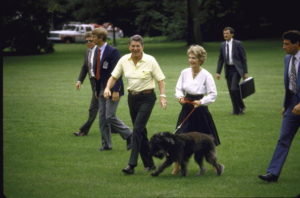 Ronald and Nancy Reagan doted on their scruffy Bouvier des Flandres, whom they named Lucky. Though they moved into the White House without any pets, a little girl gave the nine-week-old puppy to Nancy Reagan at a White House ceremony. The little girl, Kristen Ellis, was the poster child for the March of Dimes. The Reagans took quickly to the new addition to their family. Lucky was known to sit on Ronald Reagan's lap on Marine One.