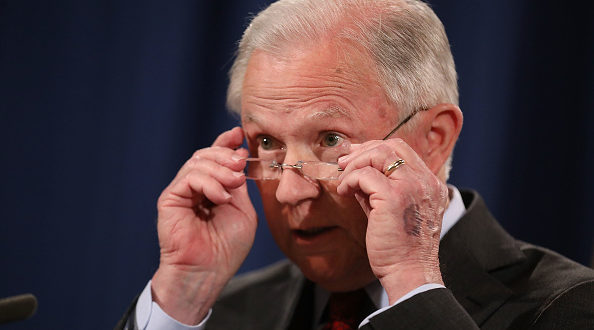 Sessions OUT? Sen. Lindsey Graham Says So
Senator Lindsey Graham (R-SC) told reporters this morning that President Trump may replace Attorney General Jeff Sessions. According to Graham, Trump may call for Sessions' resignation after the midterm elections.
Speaking to Bloomberg, Graham called the change "very likely." At the same time, he warned against firing Sessions before Election Day. Calling it "a nonstarter," Graham noted that Judge Brett Kavanaugh's confirmation hearings take priority for Senate Republicans.
This afternoon, Trump said his appointee "never took control" at the Department of Justice. He added, "Clearly, Attorney General Sessions doesn't have the confidence of the president." Graham did not name potential replacements for the Attorney General spot, but he did note that "I think there will come a time, sooner rather than later, where it will be time to have a new face and a fresh voice at the Department of Justice."
Sessions Speaks Out
Following Trump's rebuke and Graham's prediction, Sessions himself issued a blunt statement.
"While I am Attorney General, the actions of the Department of Justice will not be improperly influenced by political considerations."
Sessions continued, "However, no nation has a more talented, more dedicated group of law enforcement investigators and prosecutors than the United States."
In direct opposition to Trump's remark, Sessions said, "I took control of the Department of Justice the day I was sworn in."
He also claimed "unprecedented success at effectuating the President's agenda."
Public Criticism
Many Americans have grown frustrated with Sessions' support for civil asset forfeiture and imminent domain. As attorney general, he has also neglected to reform the criminal justice system. Voters on both sides have long argued in favor of eliminating mandatory minimum sentences. Instead, Sessions insists on continuing drug war policies.
Trump and his most ardent supporters continue to criticize sessions for recusing himself from the Russia investigation. That controversial move paved the way for Robert Mueller to take over the investigation.
Should the Senate face another hotly contested confirmation hearing, political news will heat up right before the midterms.