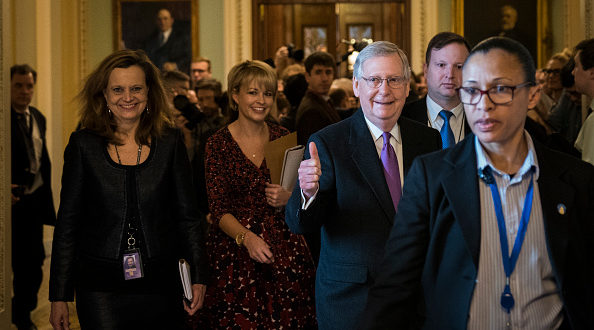 Senate Leaders Announce Bipartisan Budget Deal
Leaders in the Senate have announced a vast bipartisan budget deal to avoid another government shutdown.
A much smaller proposal had already advanced through the House of Representatives that funds the government through March 23. It's likely the Senate's bill will be sent back to the House for a vote.
President Trump tweeted:
The Budget Agreement today is so important for our great Military. It ends the dangerous sequester and gives Secretary Mattis what he needs to keep America Great. Republicans and Democrats must support our troops and support this Bill!
Two-Year Budget Details
The long-term budget agreement increases military and domestic spending levels for two years. Some of the bill's highlights include:
• Nearly $300 billion in additional funding for defense and nondefense over the next two years
• $165 billion in defense spending, with $80 billion in fiscal 2018 and $85 billion in fiscal 2019
• $131 billion in nondefense spending, with $63 billion in fiscal 2018 and $65 billion in fiscal 2019
• A debt-ceiling deadline extension of one year, moving it past the midterm elections
• $6 billion to combat the opioid crisis
• An additional four years of funding for the Children's Health Insurance Program for a total of 10 years (The previous funding deal extended the program by six years.)
• An extension of funding for community health centers and a variety of other Medicare programs
• An additional $80 billion to $90 billion in funding for areas affected by natural disasters in 2017.
The bill isn't expected to be voted on before Thursday's funding deadline. Because of this, lawmakers will need to pass another short-term spending bill to keep the government open.