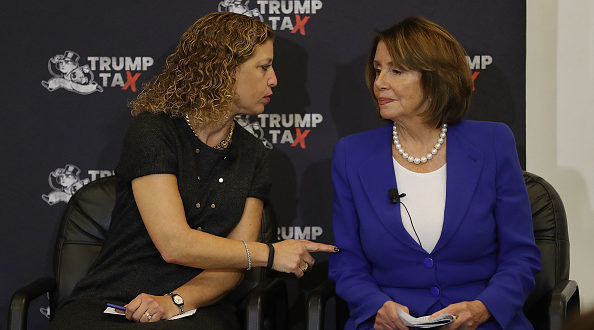 Nancy Pelosi Calls Tax Bill Benefits "Crumbs," Forsakes Middle Class
House Minority Leader Rep. Nancy Pelosi (D-CA) called President Donald Trump's tax cuts a "crumb," denigrating the wage hikes and bonuses Americans are getting in the wake of the tax reform bill.
Pelosi and former DNC chair Debbie Wasserman-Schultz spoke at Florida Atlantic University this week, where their comments were filmed by the conservative group America Rising Squared.
"Crumbs" for the Middle Class
The prominent Democrats dismissed that Americans are benefiting from the tax cuts, claiming that after taxes the cuts don't amount to much of anything.
According to Pelosi and Wasserman-Schultz, the "fat cats" will get much more.
Wasserman-Schultz then explained why they believe Americans are not benefiting:
Frankly, if you look at the bonuses, which I haven't heard of a corporate bonus more than $1,000 so far. Which by the way is taxed, so it's not $1,000. And then you spread $1,000 over the course of the year – to think of about how much that is – of course, they get it all at once. But I'm not sure that $1,000 (which is taxed, taxable) goes very far for almost anyone.
Later, Pelosi told attendees that and tax bonuses were a piece of cheese that a mouse is about to take off of a trap.
"And around it are fat cats," Pelosi finished. "And that's the thing… You get the crumb, we get the banquet."
Nancy Pelosi's net worth is $120 million. Debbie Wasserman-Schultz's net worth is a whopping $1.04 million in debt.