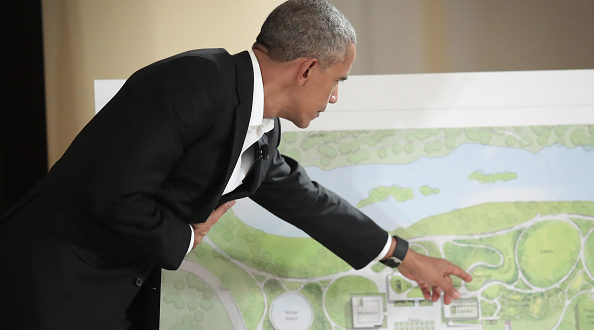 Obama Library Halts Construction, May Pay $10 Rent
Chicago residents are suing the Obama Presidential Library on the grounds that the city of Chicago unfairly gave a chunk of Jackson Park to be used for the library's construction.
Jackson Park, a large green space intended for public use, lies at the center of this debate. Months ago, the Chicago City Council granted use of the public land to the Obama complex for only $1 per year. Now, the City Council has proposed a new lease that would cost the Obama complex $10 for 99 years!
The concerned citizens' lawsuit says that this sweetheart deal takes land from the public and rents it to the Obama organization at an unfairly discounted rate.
In exchange for this sweetheart deal, the Obama campus must pledge not to use city tax dollars for construction. However, the State of Illinois already pledged almost $220 million worth of construction grants. That makes up a significant portion of the $350 million expected total construction cost. In addition, the Obama Foundation plans to donate $3.5 million to the city of Chicago.
Library Stops Construction
Construction of the Obama Presidential Library has screeched to a halt over bureaucratic hangups. On Monday, the Chicago Park District started cutting down trees to make space for the future building. The Park District had planned to move utility lines that currently run through the site. However, the Chicago Department of Transportation refused to grant the permits for moving them. Instead, the CDOT says it will not grant permits until after the lawsuit gets resolved.
The bureaucratic tangle surrounding the complex also includes the National Parks Service, Federal Highway Administration, and the National Register of Historic Places. The Foundation already delayed the groundbreaking once this summer. It remains unclear how these new delays will set back the project.