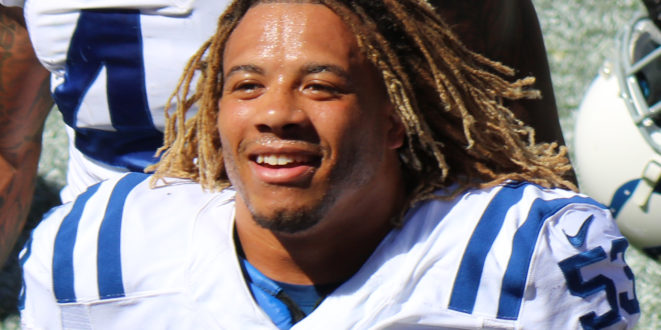 NFL Player Killed by Twice-Deported Illegal Immigrant
The drunk driver who killed former Indianapolis Colts player Edwin Jackson and his Uber driver Jeffrey Monroe was living in the United States illegally. The suspect, Manuel Orrego-Savala, did not hold a drivers license when he drunkenly killed two innocent men.
Criminal History
Orrego-Savala illegally immigrated to the United States three times. Authorities first deported him in 2007, and then again in 2009. Police do not know when Orrego-Savala crossed the border the third time. A breath test shows that Orrego-Savala's blood alcohol level was at 0.239 – nearly triple the legal limit in Indiana. He tried to run away from the scene of the crime. When confronted by police, Orrego-Savala claimed that his name was Alex Cabrera Gonsales.
A Miserable Car Crash
Jeffrey Monroe was driving Edwin Jackson down Interstate 70 early on Sunday morning. Jackson, 26, fell ill, and Monroe, 54, pulled over onto the shoulder to help him get his bearings. The two men were standing outside the parked car on the shoulderwhen Orrego-Savala plowed his Ford F-150 straight into them. The only survivor – Orrego-Savala – failed to call 9-1-1. A state trooper saw the wreckage while driving and attended to the scene.  As the state trooper pulled over at the scene of the crime, he saw the body of one of the victims, which had been thrown into one of the highway lanes.
An Outpouring of Support
The Indianapolis Colts organization offered their deepest condolences to both of the victims' loved ones. In a tweet to the team's fans, the Colts wrote "Edwin Jackson always brought a smile to our locker room and the community. Our thoughts are with his family and friends during this difficult time. We will miss him greatly."
Jackson's teammates have shared their fond memories of the young athlete taken from this life far too soon. Jacksonville Jaguars long snapper Matt Overton said, "Your love for life, passion for the game & heart to serve was contagious. Continue to shine your light from above brother! We love & will miss you."