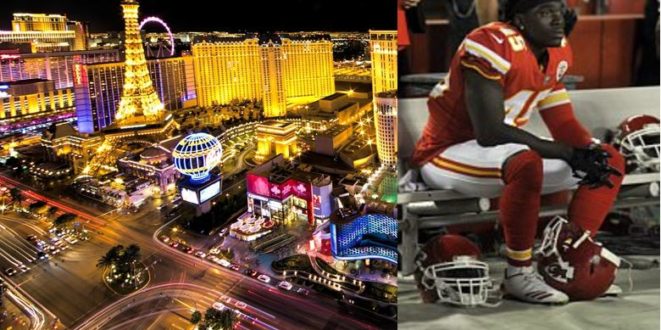 After Las Vegas, NFL Protests Continue
Following the deadly mass shooting in Las Vegas, Americans rallied around treasured symbols. The White House lowered its flag to half-staff. The Empire State Building dimmed its lights in memory of the 59 people who died at the hands of Stephen Paddock. Country music stars and fans alike gathered at an amphitheater in Nashville for a vigil.
Several NFL players, however, continued to protest during the national anthem. Three Kansas City Chiefs players sat out the anthem before their game against the Washington Redskins. All of the Redskins players stood during the anthem.
Chiefs cornerback Marcus Peters remained sitting on the bench while the anthem played. Television cameras picked up his protest, and fans booed the decision to sit after a national tragedy. Linebackers Ukeme Eligwe and Justin Houston also did not stand, but neither were shown on television. Eligwe sat on the bench; Houston seemed to pray while kneeling at the bench.
Protests against law enforcement have taken on a new tone following the Las Vegas shooting. Police officers ran towards the bullets to save lives and evacuate people from the Mandalay Bay venue. Several NFL players suspended their protests, at least while the nation grieves. These three players, however, continue to protest the anthem.