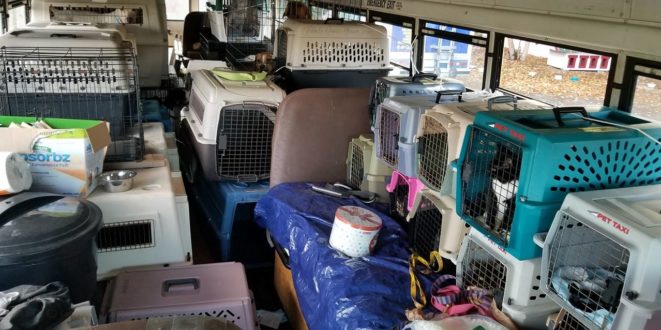 Good Samaritan Uses School Bus to Rescue Animals from Florence
When most people think about helping animals, they usually think of adopting a pet or being conscious of how they consume animal products. Tony Alsup is no ordinary person. When Hurricane Harvey hit last year, he wanted to save as many animals as possible from the devastating floods. He bought a school bus and drove it to overcrowded shelters to pick up animals who need homes.
Florence Rescue
Alsup piloted his bus into flooded parts of South Carolina, where he stopped at several shelters to take on as many pets as the bus could hold. According to the Washington Post, "In less than 48 hours, he stopped at the Humane Society of North Myrtle Beach (S.C.), the Dillon County (S.C.) Animal Shelter, another in Orangeburg, S.C., and Saint Frances Animal Center in Georgetown, S.C."
Following the rescue, Alsup drove to Alabama where a friend gave the animals warm baths and a safe place to stay. Word of the rescue spread on social media, and some neighbors showed up on the spot to adopt an animal. However, Alsup wasn't finished. After a quick rest at a Waffle House, he headed back behind the wheel, destined for Wilmington, North Carolina.
Good Samaritan
Rescue organizations often repeat the line that every animal saved from a shelter really means two lives saved. The rescuer not only saves the first animal, but when that animal leaves, the shelter has an extra space to save another furry friend. Alsup intends to save as many animals as possible. He posts updates on his Facebook page, and he solicits donations for gas money from animal lovers across the country.
The Saint Frances Animal Shelter sang Tony's praises on their Facebook page: "It's all true – Tony swooped in at 4am Wednesday morning to pick up our "leftovers" – the dogs with blocky heads, the ones with heartworm. The ones no one else will ever take. And he got them to safety. Not the most conventional evacuation, but surely the one with the most heart."