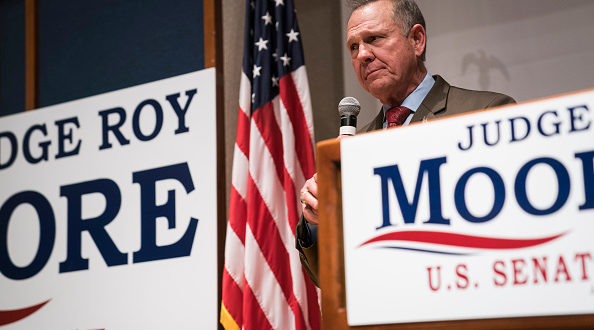 Doug Jones Defeats Roy Moore in Alabama Special Election
Alabama voters elected Democratic attorney Doug Jones over Republican Judge Roy Moore in a closely-contested special election on Tuesday. Jones and Moore both ran to fill the seat left empty by Attorney General Jeff Sessions, who held the seat from 1997 until this May. Jones received 49.9% of the vote to Moore's 48.4%, with the remaining 1.7% going to write-in candidates.
Senator-elect Jones, who has never before held elected office, is best known in the state for his role as a federal prosecutor. As U.S. Attorney for the northern district of Alabama, he prosecuted a case against Ku Klux Klan members responsible for the 16th Street Church Bombing in 1963. Though moderate on certain issues important to Alabama voters such as gun rights, Jones drew strong criticism for his uncompromising positions on abortion rights. Jones opposes, for example, bans on abortion after 20 weeks. Jones also has very progressive views on other issues such as climate change and healthcare.
Jones's victory owes much to the liabilities and weaknesses of his Republican opponent Roy Moore, who attracted intense scrutiny in the final weeks of the campaign due to allegations of inappropriate contact with minors early in his career. Moore, who previously served as Chief Justice of Alabama's Supreme Court, defeated sitting establishment Senator Luther Strange and Congressman Mo Brooks in a three-way primary this fall. Moore is well-known in Alabama for his opposition both to abortion and same-sex marriage.
Judge Moore has also been removed from the Alabama Supreme Court twice, the first time for refusing to remove the Ten Commandments from an Alabama Courthouse, and a second time for defying the U.S. Supreme Court's ruling in Obergefell vs. Hodges that legalized same-sex marriage nationwide. Moore finished a strong second against Jones, but could not win the normally Republican seat in the face of a highly energized Democratic base.