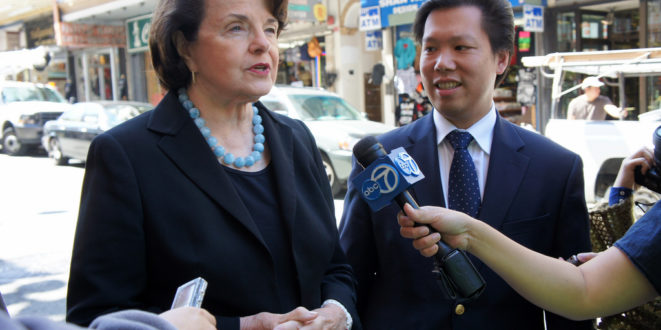 Dianne Feinstein Teases Secret Letter Against Kavanaugh
Senator Dianne Feinstein (D-CA) says she has information that should block Brett Kavanaugh's confirmation to the Supreme Court. However, she is keeping the mysterious letter a secret – even from her Democratic colleagues. Feinstein gave the letter to the F.B.I., though she still will not discuss the allegations against Kavanaugh.
The Letter, Revealed?
Following 4 days of questioning, Judge Brett Kavanaugh was ready for a confirmation vote. Instead, Senators are now wondering about the contents of a letter they may never see. Feinstein says she has a letter from an anonymous person that makes some kind of serious allegation. Bloomberg reports that the letter accuses Kavanaugh of inappropriate sexual activity with a woman while both were in high school. However, a source told The Guardian that the entire incident is closer to a harmless prank. Allegedly, Kavanaugh and a friend (both 17 at the time) locked a girl of the same age in a room. She felt unsettled, but was able to get out of the room.
Ronan Farrow says that the letter may be more serious. According to his report, Kavanaugh and a friend – both teenagers – locked the girl in a room and tried to force themselves on her. Kavanaugh denies this: "I categorically and unequivocally deny this allegation. I did not do this back in high school or at any time," he said. The other accused classmate says he has no recollection of any incident like what the woman described.
Feinstein release the following statement: "I have received information from an individual concerning the nomination of Brett Kavanaugh to the Supreme Court. That individual strongly requested confidentiality, declined to come forward or press the matter further, and I have honored that decision. I have, however, referred the matter to federal investigative authorities."
Feinstein still won't allow her colleagues to see the contents of the letter, even with the accuser's name redacted.
What Happens Next
It remains unclear if anything in the letter rises to the level of criminal activity.
The White House has already come out in Kavanaugh's defense. According to Bloomberg, "A White House spokeswoman said Kavanaugh has been vetted repeatedly by the FBI during his 25 years of public service."
Senate Majority Leader Mitch McConnell had timed the Kavanaugh hearings to allow for a confirmation vote before the Supreme Court's next session.