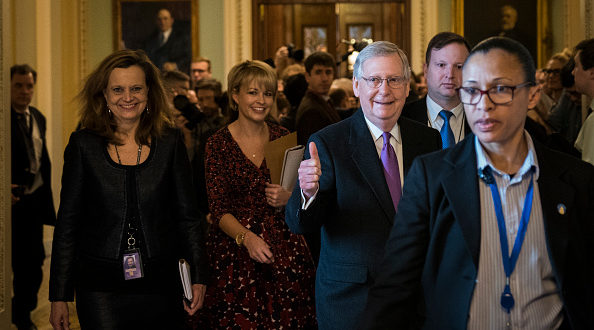 Democrats Cave on Government Shutdown, but DACA Isn't Going Away
On Monday morning, Senate Democrats voted to end debate and schedule a vote to terminate the government shutdown, after the GOP promised to address immigration reform soon.
The federal shutdown started Friday night at midnight after Democrats refused to support a funding bill. They refused to vote in favor of any funding unless they got a guarantee from the Republicans that Dreamers, or illegal immigrants who came here as children, won't be deported.
Democrats tied immigration to the appropriations bill to force discussion. Senate Majority Leader Mitch McConnell reassured them that the debate "will have a level playing field at the outset and an amendment process that's fair to all sides."
The Fight Over Immigration Continues…
The vote passed by a wide margin of 81-18, with only two GOP senators voting no: Rand Paul (R-KY) and Mike Lee (R-UT). Other senators voting no were Democrats looking at a possible presidential run, such as pro-sanctuary city advocate Kamala Harris (D-CA), Elizabeth Warren (D-MA), and Cory Booker (D-NJ).
Tonight's vote will fund the government for the next month and end the current shutdown. However, the greater issue of the Obama-era protections for illegal immigrants shows no sign of a resolution anytime soon.
A memo recently revealed that Democrats view illegal immigrants are "critical" to the left's "future electoral success." Some Republicans have also defended DACA, asking for amnesty for those who are already here.
This resolution also funds the Children's Health Insurance Program (CHIP), a program that protects families who earn too much to apply for Medicaid but cannot afford private insurance plans. CHIP is funded for the next six years.