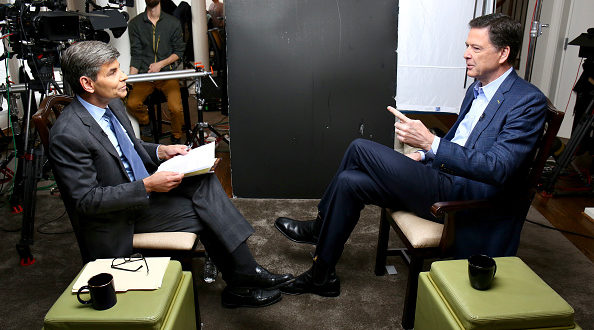 James Comey Dishes on ABC News, Tries to Implicate Trump Admin
Former FBI Director James Comey called Deputy Attorney General Rod Rosenstein "dishonorable," Attorney General Jeff Sessions "overmatched," and even accused President Donald Trump of obstructing justice in a bombshell interview with ABC News.
Comey, disgraced when he was fired by President Trump, sat down with George Stephanopoulos Sunday night. He discussed not only his firing but also what went on behind the scenes in the administrations of both President Trump and former President Barack Obama.
The former director's book, "A Higher Loyalty: Truth, Lies, and Leadership," will be released on April 17th. Comey has been highly active on Twitter in an effort to market the book.
Comey Holds Nothing Back
In his interview with Stephanopoulos, Comey said that Rod Rosenstein "acted dishonorably" by writing a memo to Attorney General Jeff Sessions about why Comey was fired. The disgraced director likened the Trump administration to a "mafia family," and said Rosenstein was "part of the family now. I can't trust him."
Comey had much to say about Sessions as well. He stated his view "maybe…unfair to [Sessions]." Comey then asserted the job of Attorney General was "much, much bigger" than Sessions.
Calling Sessions "overmatched," the former director admitted that he worked with Sessions only "very briefly" before being fired.
The biggest bombshell, however, came when Comey implied the president of obstruction of justice in the Michael Flynn case. He claimed that in the Oval Office, Trump spoke to him one-on-one.
Trump told Comey, "I hope you can let this go." Comey believes this to refer to the Flynn case.
When asked if this constituted criminal obstruction, Comey waffled, saying, "possibly."
"I mean it's certainly some evidence of obstruction of justice. It would depend, and I'm just a witness in this case, not the investigator or prosecutor, it would depend upon other things that reflected on his intent."
Trump has explicitly denied Comey's accusations, calling him a liar.