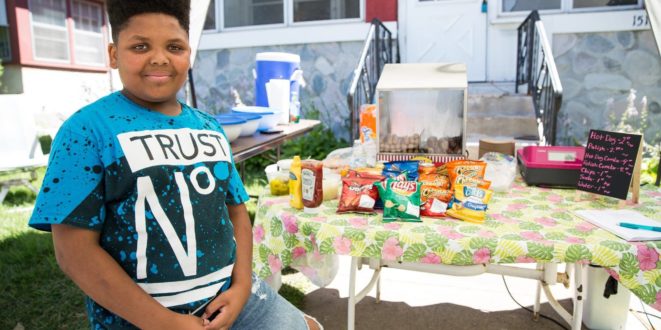 City Steps in After Boy's Hot Dog Stand Almost Gets Shut Down
A thirteen-year-old's hot dog stand is now permitted and officially open for business as of Monday, thanks to the help from the city of Minneapolis.
Jaequan Faulkner started his summer hot dog stand two years ago. However, it wasn't until this year that Faulkner decided to become serious about it. With the hopes of buying new school clothes, he re-opened Mr. Faulkner's Old Fashioned Hot Dogs at the beginning of this summer.
Faulkner's hot dog stand soon became a success. Business soared after police officers with the "Bike Cops for Kids" program encouraged people to visit his stand via Facebook.
In an interview with KARE 11 last month, Faulkner told them,
"It puts pride in me to see that I'm doing something good for the community."
Unfortunately, Faulkner had been running his stand without a permit. As a result, someone complained about the stand to the Minneapolis Health Department.
Minneapolis to the Rescue!
The city of Minneapolis decided to help the middle schooler with his business instead of shutting down his stand.
The Health Department, the Minneapolis Promise Zone, and the Northside Economic Opportunity Network (NEON) worked together to bring his hot dog stand up to code.
The health inspectors even pitched in to pay for Faulkner's permit, which totaled to $87.
Faulkner told the Charlotte local news, WCNC,
"Surprisingly, I'm like, dang the city's not the bad guys in this situation. They're actually the ones who are helping me."
While Minneapolis was kind enough to help Faulkner out with his hot dog stand, other cities have not been so helpful.
Earlier this year, Country Time Lemonade started a fund to help children who get fined for running lemonade stands this summer. They started the fund in light of a stand getting shut down in Texas for not having a permit.