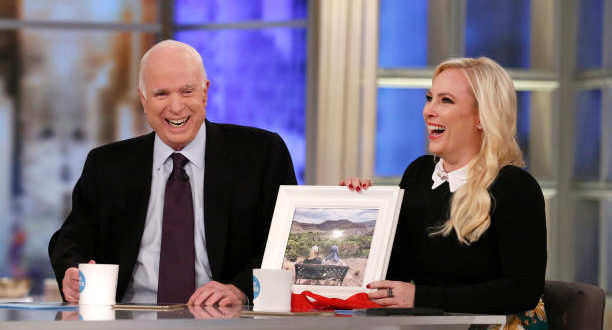 John McCain, War Hero and Republican, Dies at 81
Senator John McCain passed away on August 25th at the age of 81, from an aggressive form of brain cancer called glioblastoma.
McCain led a life of public service. Born on a naval base in the Panama Canal Zone, he grew up moving around the Americas due to his father's naval career. He attended the U.S. Naval Academy. Though he graduated near the bottom of his class, classmates knew him as a fierce lightweight boxer and an ally of those targeted by bullying. After graduation, McCain trained to become a naval aviator.
Beginning in 1967, McCain served in combat duty during the Vietnam war. He flew 23 combat missions, the last of which ended when the North Vietnamese shot down McCain's skyhawk plane with a missile. He ejected out of the plane and landed in a lake, though he suffered fractures in both arms and one leg. The North Vietnamese captured and tortured him. McCain spent 5 years as a prisoner of war, including two of those years in solitary confinement.
McCain was released by his captors on March 14, 1973. He endured a long and difficult recovery and went on to attend the Naval War College for graduate studies. In the late 1970s, he continued his service to the country as the commanding officer for a naval training squadron. The military honored McCain with some of its highest awards. He received a Silver Star Medal, two Purple hearts, the Distinguished Flying Cross, and three Bronze Star medals, among others.
Political Career
McCain first ran for Congress in 1982. During that campaign, a voter called him a "carpetbagger" trying to take advantage of an open seat. McCain delivered a devastating response: "Listen, pal. I spent 22 years in the Navy. My father was in the Navy. My grandfather was in the Navy. We in the military service tend to move a lot. We have to live in all parts of the country, all parts of the world. I wish I could have had the luxury, like you, of growing up and living and spending my entire life in a nice place like the First District of Arizona, but I was doing other things. As a matter of fact, when I think about it now, the place I lived longest in my life was Hanoi."
As a Congressman, McCain ardently supported Ronald Reagan's agenda. The war hero Congressman successfully ran for Senate in 1986. He filled Barry Goldwater's seat upon the Republican icon's retirement. McCain unsuccessfully sought the GOP nomination for the presidency in 2000. Though he was the Republican candidate for president in 2008, he lost to another more junior senator, Barack Obama.
At the time of his death, McCain was serving his 6th term in the Senate. He was Chair of the Armed Services Committee. He leaves behind a legacy of bold, decisive action: "Courage is not the absence of fear, but the capacity to act despite our fears." House Speaker Paul Ryan announced that the Senator will lie in state in the Capitol Rotunda, an honor reserved for the likes of Ronald Reagan and Rosa Parks.
Family Life
McCain is survived by his wife of 37 years, Cindy, and his 7 children: Douglas, Andrew, Sidney, Meghan, Jack, Jimmy, and Bridget.