News: Justify Wins at Belmont, Trump Stuns at G7, and De Niro Goes Crude at Tonys
Triple Crown Winner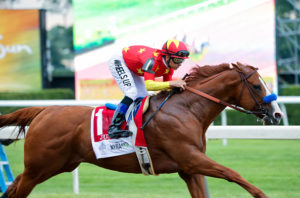 Three year-old colt Justify won the Belmont Stakes on Saturday, becoming the 13th Triple Crown winner in history. Justify was trained by Bob Baffert, who also trained American Pharoah (the 2015 Triple Crown winner). Another horse owner and another jockey have accused Restoring Hope, another one of Baffert's horses, of blocking for Justify to keep other horses from outrunning him.
G7 Summit
President Trump made quite a splash at the G7 Summit in Quebec, where he talked tough on trade policy. Canadian Prime Minister Justin Trudeau responded with sharp criticism. Trump maintains that Americans have been getting a bad deal on foreign trade. He also says that the U.S. spends too much on defense, while other countries spend too little – and unfairly expect us to be the world's policeman.
Mourning Bourdain
The world grieved the loss of Anthony Bourdain, the famous chef, writer, and television host. Anderson Cooper delivered a heartfelt remembrance of the beloved star, and chefs and diners around the world shared their personal memories of him. Bourdain once stood up for a woman who was being taunted on the internet for her cheery review of Olive Garden. He said she offered an important perspective. He published her book under his imprint, and even wrote the foreword. Owners of a restaurant visited by Bourdain made a huge donation to a suicide prevention hotline.
If you or someone you know is struggling, call the National Suicide Prevention Lifeline at 1-800-273-8255.
De Niro Gets Crude
The Tony Awards took place last night, and actor Robert De Niro did not mince words. "F*** Trump," he said, and received a standing ovation. Students from Parkland, Florida performed "Seasons of Love" at the celebration of Broadway musicals.