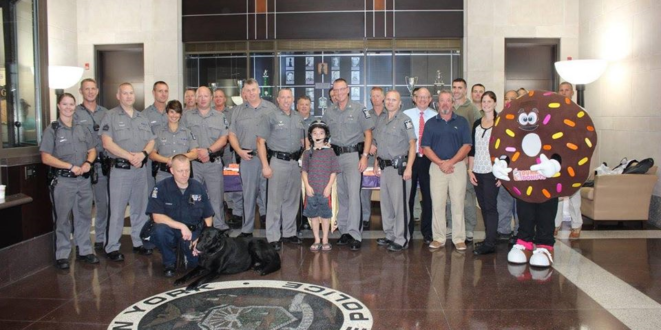 10-Year-Old Strives to Thank Every Cop in America with Donuts
For the past two years, 10-year-old Tyler Carach has been committed to thanking every police officer in America by treating them to donuts.
A couple of years ago, Tyler and his mother, Sheena Carach, were at their local store in Bratt, Florida. Tyler saw four deputies and offered to buy them some donuts with his allowance money. Confused as to why the officers were so excited over this gesture, his mother explained to him
"A lot of people choose to judge a whole by a few and because of that some people are not very kind to officers"
Tyler made it his mission to "thank every cop in American and buy them a donut."
Making an Impact, State by State
What started as a simple gesture has since turned into an ongoing mission. His program is called "I DONUT need a reason to THANK a cop." It has spanned all across the nation. As of now, Tyler has been to 34 states within the past 22 months. He has delivered roughly 65,000 donuts to officers all over America.
The money for the donuts, while originally funded by Tyler, is now donated from strangers through his website and GoFundMe page. Sometimes, donut companies such as Krispy Kreme and Dunkin Donuts will support Tyler's cause by supplying the donuts themselves, free of charge.
When people ask why she supports her son's commitment to giving back, Sheena Carach replies "why not?"
She encourages her son's endeavor one hundred percent. In an interview with Sheena, she told StandUnited
"When you're committed to something, you have the ability to achieve anything you put your mind to. You should always follow your dreams and passions."
Tyler and his family will be flying out to Washington state next month to continue showing his appreciation towards police officers.
Click here to follow Tyler and find ways to get involved.