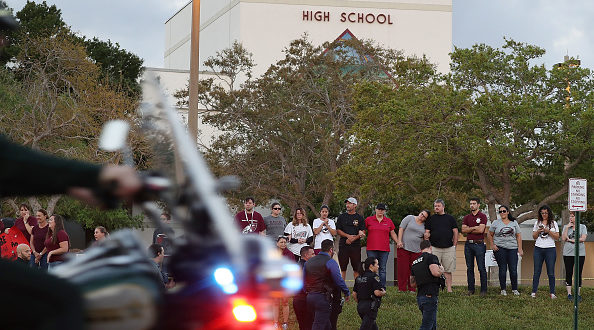 Parkland Shooting Survivors Sue Broward County Sheriff, FBI
The families of two students that were wounded in the mass shooting at Stoneman Douglas High School in Parkland, Florida plan to sue the Broward Sheriff's Office, the FBI, the Broward School Board.
The two survivors filing lawsuits include Kyle Laman and Anthony Borges, both 15 years old. The plaintiffs allege negligence against Broward County Public Schools, Marjory Stoneman Douglas' principal, and its school resource officer.
Laman was shot in the foot and had to undergo two major surgeries to reconstruct ligaments, with more scheduled in the future.
Borges was shot five times. He is still recovering in the hospital.
When shots broke out, Borges rushed into action and attempted to close and lock the classroom door. This led to his injuries but helped saved up to 20 lives. While he lay on the floor, he gave a description of the shooter to the police.
His description ultimately led to the arrest of Nikolas Cruz.
The Feb. 14 shooting left 17 dead and 16 wounded. There are expected to be several more lawsuits filed in response.
FBI Admits They Failed Protocol…
According to a statement released by the FBI:
"A person close to Nikolas Cruz contacted the FBI's Public Access Line (PAL) tipline to report concerns about him. The caller provided information about Cruz's gun ownership, desire to kill people, erratic behavior, and disturbing social media posts, as well as the potential of him conducting a school shooting. Under established protocols, the information provided by the caller should have been assessed as a potential threat to life. The information then should have been forwarded to the FBI Miami Field Office, where appropriate investigative steps would have been taken. We have determined that these protocols were not followed for the information received by the PAL on January 5. The information was not provided to the Miami Field Office, and no further investigation was conducted at that time."