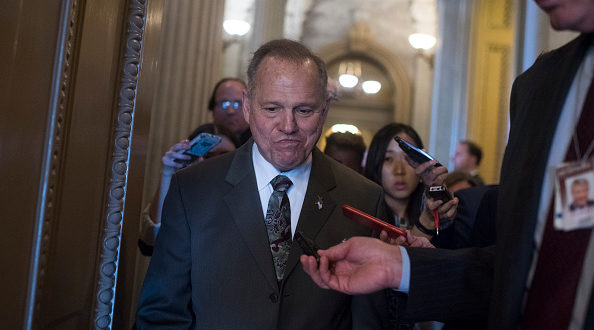 Roy Moore Has New Accuser, Loses Endorsements
Another accuser has come forward against embattled judge and Congressional candidate Roy Moore, claiming that the judge molested her on several occasions beginning when the woman was 15 years old.
Attorney Gloria Allred is representing Beverly Young Nelson, who says that Moore first noticed her when she was a waitress at a local restaurant. According to Nelson, the then-District Attorney dined at the restaurant regularly, and would "pull the ends of her hair as he passed by." He often complimented the teenage girl on her looks.
Nelson said she did "nothing to encourage" this behavior, and "did not respond" to flirtatious overtures. After she turned 16, Nelson says he signed her high school yearbook with a flirtatious message.
"To a sweeter more beautiful girl, I could not say Merry Christmas," he wrote, signing it with the date – Christmas, 1997 – and the words, "Love, Roy Moore, DA."
After signing her yearbook, Moore offered to drive Nelson home. Nelson interpreted the offer as nothing more than a gracious gesture. She politely accepted. When she got into Moore's car, however, the horror truly began. Nelson alleges that Moore locked the car and forcibly groped her as she fought him off. After he attempted to force her into sexual contact, Nelson says "gave up." Afterwards, Moore allegedly mocked her, saying "You're just a child, I'm the district attorney. If you tell anyone about this, no one will ever believe you."
Political Fallout
The chairman of the National Republican Senatorial Committee, Sen. Cory Gardner (R-CO), said on Monday that the Senate should vote to expel Moore if he wins the Senatorial election. Gardner said that the embattled former judge "does not meet the ethical and moral requirements of the United States Senate." Alabama will choose its next Senator on December 12th.
Some are encouraging outgoing Senator Luther Strange to consider a write-in campaign; though Moore beat Strange handily in a September run-off. A write-in campaign would most likely divide the GOP vote, leading to a win for the Democrats in Alabama. Several incumbent senators have spoken out against Moore. Sens. John McCain and Mitch McConnell have asked the candidate to step aside.  Sens. John Cornyn, Mike Lee, and Steve Daines have all revoked their endorsements.
Five women have now come forward and accused the judge of sexual molestation or assault.