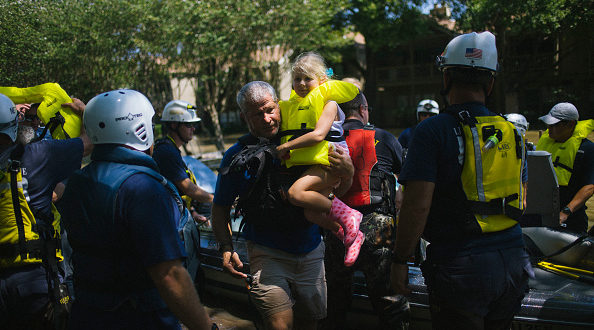 Cajun Navy Arrives in Carolinas To Assist With Florence Recovery
As much of the eastern seaboard braces for Hurricane Florence, the Cajun Navy is prepared to bring food, aid, and shelter to people who need it most. The group of citizen boaters organized a massive expedition into the Carolinas. Many are driving into the storm from Texas and Louisiana.
A Storied History
When Hurricane Katrina devastated the Gulf Coast, boaters from Texas and Arkansas showed up to assist with the rescue effort. The Baton Rouge Advocate described the group when it assisted with another flood rescue years later:
"The heroes hailed from the Cajun Navy, the nickname for an impromptu flotilla of volunteers who had no admiral, no uniforms, no military medals awaiting them for acts of valor. It was conscience, not a commanding officer, that summoned them into treacherous currents to carry endangered citizens to higher ground."
Last year, when Hurricane Harvey struck, Louisianans and Mississippians showed up for their neighbors in Texas. These volunteers coordinated a response effort that pulled people out of flooded homes and delivered them to safety. Though the organization accepts donations, most of the rescuers travel to disaster zones at their own expense.
Hurricane Florence
This time around, the Cajun Navy's volunteers have more organization and technology than ever before. The group now coordinates with multiple government agencies. Boaters rely on secure radio technology to communicate in places with no cell service. This time around, they'll even use a drone to survey the landscape and guide boats to stranded people. The Cajun Navy's Texas captain, Taylor Fontenot, drove 18 hours to be ready for a massive recovery effort. He told KHOU news, "We have government contacts, DOD (Department of Defense), local military that will kind of guide us cause nobody wants to see what happened in Harvey and Katrina happen again."
Forecasters predict that flooding from Florence could reach far inland. As residents evacuate, the Cajun Navy knows they'll have their work cut out for them by a historic storm.