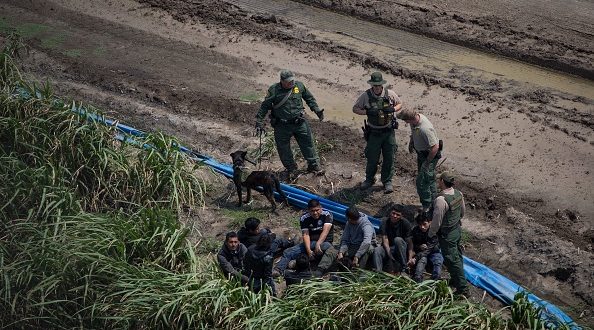 Apprehended: 2,000 Migrants, 3 Days, 1 Border Crossing
Agents from the U.S. Border Patrol detained more than 2,000 people illegally crossing the U.S.-Mexico border during a single three-day period in one area.
McAllen Station, a border control point near McAllen, TX, is being "inundated with migrant families and unaccompanied minors." Though the agents do the best they can to apprehend and process these people, the situation remains dire. Rio Grande Valley Sector Chief Patrol Agent Manuel Padilla, Jr. says the conditions are "an unsustainable situation."
Pawns to the Cartel
Border Patrol has long known the Rincon Village area as a vulnerable site for border crossings and human trafficking. Cartels approach this strategically. They send families and children across the border, telling them to surrender to the first Border Patrol agent they see. With the Border Agents busy handling families and kids, the cartels use the unsecured border as a route for trafficking in drugs and in persons.
Padilla says this isn't a case of parents sending their children to a better life in America.
"The transnational criminal organizations exploit family units and unaccompanied children populations and create diversion for agents, leaving areas along the Rio Grande vulnerable," he said in a written statement.
When Border Patrol agents are entering people into the system, they cannot also be patrolling the border. The cartels know this, and they purposefully send waves of people over the border at strategic times. When agents are busy dealing with people who crossed the border, the cartels know the border is less secure. The cartels choose those times to send human traffickers and drug shipments across the border.
Without a physical barrier at the border near Rincon Village, the area remains a hot spot for human smuggling operations. The only deterrent to crossing is the Border Patrol.
No End in Sight to Illegal Border Crossings
In July of 2018, almost 35,000 people were arrested while trying to cross the southern U.S. border. While that figure decreased from over 40,000 in June, no one knows how many people entered the country undetected.
It is unknown whether those arrested at Rincon Village were part of a caravan of Central Americans that was marching toward the United States in April.