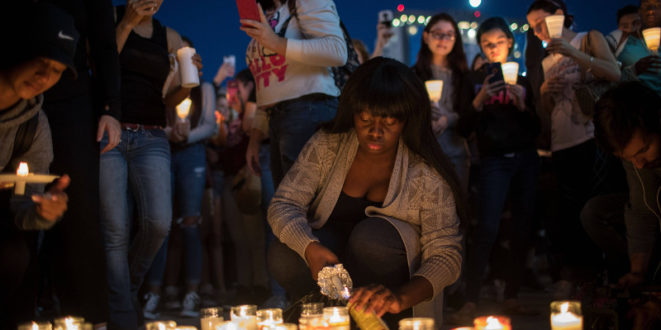 Alleged Teacher Hoped Trump Voters Died in Las Vegas
Following the Las Vegas shooting, the nation mourned the 59 dead and hundreds injured by a gunman. Some, however, took the opportunity to wish death on their political opponents.
A twitter user who called herself @theresistANNce wrote, "Pray only trumptards die." In the bio, this twitter user claimed to be a teacher.  No school district has verified the teacher's identity or employment.
Following the tweet, @theresistANNce received a great deal of backlash, and she appears to have deleted her account, which is no longer active. Unfortunately, she was not the only person to let politics get in the way of condolences.
Political Posturing
Hayley Geftman-Gold, formerly a vice president at CBS, openly disrespected the victims, wrote on Facebook: "I have no hope that Repugs will ever do the right thing. I'm actually not even sympathetic to country music fans bc country music fans are often republican gun toters."
In an official statement, CBS announced that Geftman-Gold's post was unacceptable, and that she had been dismissed from the network. CNN's Jeff Zeleny also thought it necessary to point out that many of the country music fans present might have been Trump supporters.
Even Trump opponents abroad made a mockery of the attack. Notorious British atheist Richard Dawkins openly derided the Second Amendment and those who support it. Dawkins tweeted, "Cool dude sertin' he's 2nd Mendment rahts. Hell yeah!" He continued, writing "Every country has its psychopaths. In US they have guns."
In contrast, country music's biggest stars offered their condolences to the victims and their families. A group of country musicians and fans gathered on Monday night for a vigil to honor those who tragically lost their lives.